Posted on April 8, 2010 |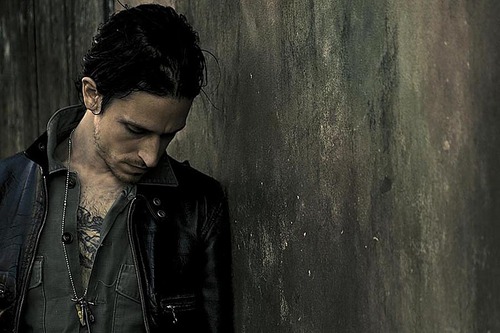 Jimmy Gnecco, one of my favorite singer/songwriter (and the best pipes in
the business next to Thom Yorke, Sigur Ros's Jónsi Birgisson and of course
the late, great Jeff Buckley) who I feel never got the fame and recognition
he so richly deserves, will be releasing his first solo album this Summer
on Bright Antenna Records.
Titled "The Heart", it shall see the light of day on July 20th.
Tracklist:
01. Rest Your Soul
02. Light On The Grave
03. Mystery
04. The Heart
05. Bring You Home
06. These Are My Hands
07. Gravity
08. I Heard Your Singing
09. Take A Chance
10. Darling
11. Patiently Waiting
12. It's Only Love
13. Talk To Me
You might know his music under the Ours moniker from the 3 albums
(2001's "Distorted Lullabies", 2002's "Precious" and 2008's "Mercy …
Dancing For The Death Of An Imaginary Enemy") he managed to release
over the years even though he went through bad music label dealings.
Despite commercial success eluding him, the man does have an
extremely loyal army of followers that kept him afloat through it all.
From what I could gather, this new album is a very personal project
for him. Mostly acoustic songs (and a few rockers) dealing with
love, life & death (his mom passed away last fall), common themes
he's broached before but this time, it's really personal.
You can hear what I'm talking about with the first single off the
new album titled "Bring You Home".
( MP3 ) Jimmy Gnecco - "Bring You Home"

A music video was shot for it last Fall and i'm guessing it should
see the light of day in the coming weeks.
I was lucky enough to catch Jimmy @ SXSW a few weeks ago, as part of
Bright Antenna's showcase @ Stubb's.
A very nice, albeit short, acoustic set with mostly songs from the
new album.
I managed to record 2 songs from said set which i've YouTube'd for your
pleasure:
Jimmy Gnecco - "Mystery"
Jimmy Gnecco - Untitled New Song
Jimmy will be back on the road at the beginning of May, with
Greg Laswell & Brian Wright in tow.
Sadly, no tour love for Montreal.
May. 06 - Mississippi Studios ( Portland, OR )
May. 07 - WOW Hall ( Eugene, OR )
May. 08 - The Tractor Tavern ( Seattle, WA )
May. 11 - Walnut Room ( Denver, CO )
May. 14 - 7Th Street Entry ( Minneaplis, MN )
May. 15 - Empty Bottle ( Chicago, IL )
May. 17 - The Legendary Horseshoe Tavern ( Toronto, Canada )
May. 19 - Blind Pig ( Ann Arbor, MI )
May. 20 - Cambridge Room @ House Of Blues ( Cleveland, OH )
May. 21 - Rumba Cafe ( Columbus, OH )
May. 22 - Tin Angel ( Philadelphia, PA )
May. 24 - The Rock And Roll Hotel ( Washington, DC )
May. 25 - Bowery Ballroom ( New York, NY )
May. 27 - Paradise Rock Club ( Boston, MA )
May. 30 - The Evening Muse ( Charlotte, NC )
Jun. 01 - Vinyl ( Atlanta, GA )
Jun. 02 - WorkPlay Theatre ( Birmingham, AL )
Jun. 04 - The Prophet Bar ( Dallas, Texas )
Jun. 05 - Stubb's BBQ ( Austin, Texas )
Jun. 08 - The Rhythm Room ( Phoenix, Arizona )
Jun. 10 - Cafe Du Nord ( San Francisco, CA )
Bookmark This :
Comments