Posted on April 21, 2009 |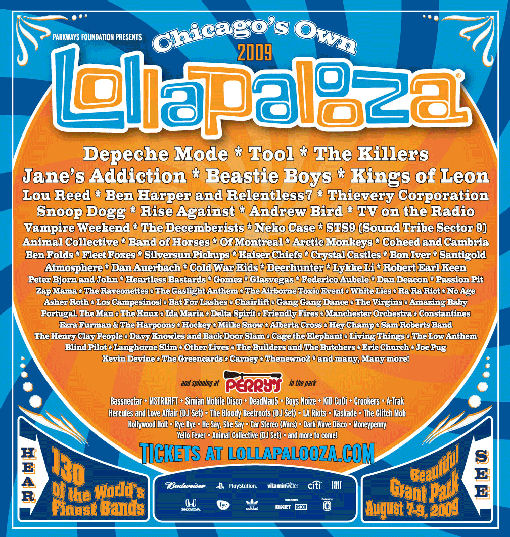 Meh.
I was waiting to see what the complete lineup would look like and i'm pretty much
underwhelmed.
On the headliners side, only Depeche Mode and Beastie Boys are worth my
time and I'll be seeing them live a few weeks before Lolla is in full swing.
As for the non-headlining bands, Vampire Weekend, Animal Collective,
Band Of Horses, Silversun Pickups, Glasvegas, The Raveonettes, No Age,
Bat For Lashes, Friendly Fires, Manchester Orchestra does it for me but
would it be worth my time and money just to see those bands i've seen many
a times in venues all around my neck of the woods?
Alot of the same bands are on the All Points West bill and you have bands
like Elbow, My Bloody Valentine, Mogwai, Yeah Yeah Yeahs … not on
Lollapalooza's which makes it way more appealing to yours truly.
Seems I've already made up my mind.
So … What d'yall think?
Happy? Sad? Nonplus about this year's lineup?
Lollapalooza '09 roster:
* Depeche Mode
* Tool
* The Killers
* Jane's Addiction
* Beastie Boys
* Kings of Leon
* Lou Reed
* Ben Harper and Relentless7
* Thievery Corporation
* Snoop Dogg
* Rise Against
* Andrew Bird
* TV on the Radio
* Vampire Weekend
* The Decemberists
* Neko Case
* STS9 (Sound Tribe Sector 9)
* Animal Collective
* Band of Horses
* Of Montreal
* Arctic Monkeys
* Coheed and Cambria
* Ben Folds
* Fleet Foxes
* Silversun Pickups
* Kaiser Chiefs
* Crystal Castles
* Bon Iver
* Santigold
* Atmosphere
* Dan Auerbach
* Cold War Kids
* Deerhunter
* Lykke Li
* Robert Earl Keen
* Peter Bjorn and John
* Heartless Bastards
* Gomez
* Glasvegas
* Federico Aubele
* Dan Deacon
* Passion Pit
* Zap Mama
* The Raveonettes
* The Gaslight Anthem
* The Airborne Toxic Event
* White Lies
* Ra Ra Riot
* No Age
* Asher Roth
* Los Campesinos!
* Bat For Lashes
* Chairlift
* Gang Gang Dance
* The Virgins
* Amazing Baby
* Portugal. The Man
* The Knux
* Ida Maria
* Delta Spirit
* Friendly Fires
* Manchester Orchestra
* Constantines
* Ezra Furman & The Harpoons
* Hockey
* Miike Snow
* Alberta Cross
* Hey Champ
* Sam Roberts Band
* The Henry Clay People
* Davy Knowles and Back Door Slam
* Cage the Elephant
* Living Things
* The Low Anthem
* Blind Pilot
* Langhorne Slim
* Other Lives
* The Builders and The Butchers
* Eric Church
* Joe Pug
* Kevin Devine
* The Greencards
* Carney
* Thenewno2
Advance 3-day passes are on sale now for 190$. Until those sells out
then it's regular 3-day passes at a much higher price.
Bookmark This :
Comments