Posted on March 13, 2015 |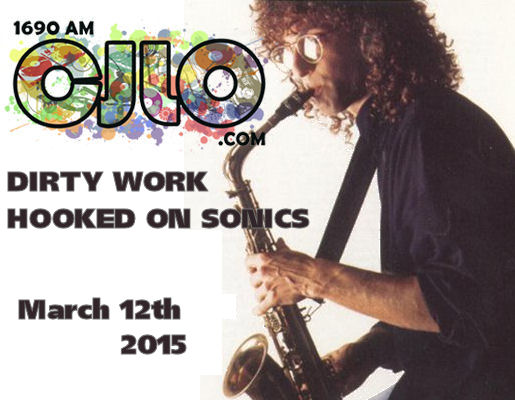 Been awhile since I posted one of my monthly appearances on the inseparable team that is @denisdirtywork and @omarsonics on their respective @CJLO1690AM shows Dirty Work and Hooked On Sonics.
Things discussed on last night's shows:
* My wanting to go to SXSW 2015 but failed miserably.
* How hipsters love their Tame Impala.
* Shad taking over CBC Radio 3 "Q" radio show (Big ups to heem!)
* How Metz crushes all things.
* How the singer from Speedy Ortiz sounds way too much like Liz Phair.
* Kenny G, son.
* How I like all things Scandinavian.
* How Swervedriver never did it for me.
All this and more awaits you!
4 hours of college radio programming you can either download and/or stream
to your leisure.
Dirty Work
— >>> Download MP3 / STREAM <<< —
Hag Face - "Rag Face"
Ultrathin - "Sick Of Living"
Viet Cong - "Pointless Experience"
Talk Spot
Big Dick - "Good Hunting" (My Pick #1)
Perfect Pussy - "Driver"
Soupcans - "No Teeth"
Veneers - "Wraith"
Talk Spot
Weed - "Stay In The Summer" (My Pick #2)
Kestrels - "Brindle"
Cheatahs - "The Swan"
Talk Spot
Mexican Slang - "Fever" (My Pick #3)
Greys - "Use Your Delusion"
Odonis Odonis - "Are We Friends"
Talk Spot
Tame Impala - "Let It Happen" (My Pick #4)
News & Community Calendar
Disappears - "I_O"
Title Fight - "Liar's Love"
Talk Spot
Shamir - "On The Regular" (My Pick #5)
Spacesuits - "Lift Shift"
Simian Mobile Disco - "Z Space"
Saxyndrum - "Maceonectar"
Talk Spot
Shad & DJ T.LO - "Always Winnin'"
Talk Spot
The Helio Sequence - "Stoic Resemblance" (My Pick #6)
Sleater-Kinney - "A New Wave"
Metz - "Acetate"
Talk Spot
Father John Misty - "The Night Josh Tillman Came to Our Apt." (My Pick #7)
Hooked On Sonics
— >>> Download MP3 / STREAM <<< —
Hum - "I'd Like Your Hair Long" (My Pick #8)
Velvet Teen - "Naked Girl"
Braids - "Taste"
Purity Ring - "Push Pull"
Chromatics - "I Can Never Be Myself When You're Around"
Talk Spot
All Eyes West - "From Under" (My Pick #9)
Waxahatchee - "Air"
Speedy Ortiz - "The Graduates"
Dick Diver - "Waste The Alphabet"
Matthew E. White - "Rock And Roll Is Cold"
Natalie Prass - "My Baby Don't Understand Me"
News & Community Calendar
Jose Gonzalez - "Let It Carry You"
Talk Spot
Westkust - "Swirl" (My Pick #10)
Colleen Green - "Pay Attention"
Sensei - "Forced Memory"
A Place To Bury Strangers - "Now It's Over"
Pile - "#2 Hit Single"
Frail - "Firecracker"
Talk Spot
Swervedriver - "I Wonder" (My Pick #11)
Twin River - "He's Not Real And He Ain't Coming Back"
Raised By Swans - "Chasms"
Talk Spot
Sufjan Stevens - "Fourth Of July" (My Pick #12)
Bookmark This :
Comments