Posted on December 16, 2014 |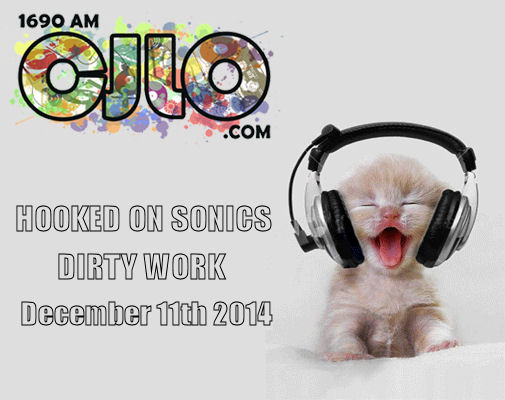 Last Thursday, I skedaddled to Concordia's Loyola Campus for a hang with
the CJLO 1690AM Thursday afternoon crew Denis of Dirty Work (@denisdirtywork) and Omar Goodness of Hooked On Sonics (@omarsonics).
On air that afternoon were the very hyper "Carlos" and the cool as a cucumber
"Sparky", new producers of both shows, Nana of "Nana Knows Best" with her own picks and yours truly.
4 hours of non stop radio fun. Mostly new songs played and us shooting the shit.
I'll be back January 8th (TBD) four our annual Hooked On Dirty Airplay
Year-End Spectacular, where each of our top 10 albums of 2014 lists will
be revealed.
This CJLO appearance will sub for my podcast this month (cuz why not) which
will be back in early January with new songs and picks unused for previous
episodes from the year that was.
Come back for that but also, come back for my annual Christmas compilation,
my best of year-end lists and the MEGA SUPER DUPER 2014 songs compilation
posted on New Year's Day.
Woot.
Dirty Work
— >>> Download MP3 / STREAM <<< —
Last Ex - "Hotel Blues"
Medicine - "Cold Life"
Cold Specks - "Let Loose The Dogs"
vibragun - "Supernova Comedown" (Paul Pick)
Cousins - "What's Your Name"
Speedy Ortiz - "Cutco"
Lion Babe Feat. Childish Gambino - "Jump Hi" (Paul Pick)
Flying Lotus - "Coronus The Terminator"
Mozart's Sister - "Don't Leave It To Me"
Homeshake - "Cash Is Money"
Wu-Tang Clan - "Keep Watch" (Paul Pick)
Dan-E-O - "Locked"
Earl Sweatshirt Feat. Tyler The Creator - "Whoa"
yU - "Never Burning Out" (Paul Pick)
Bear In Heaven - "Time Is One Day Old"
Hookworms - "The Retreat"
Taperecorder - "Hot Bartender" (Paul Pick)
Absolutely Free - "Earth 2″
Aphex Twin - "4 bit 9d api + e + 6″
WTCHS - "Chinese Hand Cream"
Nothing - "Chloroform"
Stagnant Pools - "Ever So"
Hooked On Sonics
— >>> Download MP3 / STREAM <<< —
Mogwai - "Teenage Exorcists"
Gigantic - "Pity Sex" (Pixies Cover)
No Joy - "Last Boss"
Drug Church - "But Does It Work?"
Smashing Pumpkins - "One And All (We Are)" (Paul Pick)
Nothing - "July The Fourth"
Texas Is The Reason - "Back And To The Left"
Weekend - "Oubliette"
Sunbears! - "He's A Lie! He's Not Real" (Paul Pick)
Limblifter - "Ariel Vs. Lotus"
Sleater Kinney - "Surface Envy"
Beliefs - "Tidal Wave"
Bleeding Rainbow - "So You Know"
Lauriate - "Northern Dialects"
Petite Noir - "Chess" (Nana Pick)
The Bots - "5:17″ (Nana Pick)
Generationals - "Black Lemon" (Nana Pick)
Caribou - "Our Love" (Nana Pick)
Shad & DJ T.Lo - "Always Winnin'" (Paul Pick)
Disappears - "Halcyon Days"
Bookmark This :
Comments