Posted on March 30, 2009 |
A week after being back from the insanity that was South By Southwest
(a wrapup with pix and videos will be online later this week) it made
me left thinking about my next music festival excursion(s).
In my neck of the woods, We have our own outdoor music festival Osheaga
happening this year from July 30th to August 2nd.
There's the Virgin Music Festival in Toronto which I always meant to go
to but never actually made firm plans to attend. I may do so this year.
Rock The Bells, for lovers of hip hop of yore ('ol school, bitches!) which you can
count me in as one of those lovers. I can't wait to see what kind of sick lineup
these RTB fools will concoct this year.
The two giant, Chicago based summer music fests Pitchfork (July 17-19)
and Lollapalooza (August 7-9) looks mighty enticing since they usually have
great lineups and I always wanted to visit The Windy City, which would make this
a great all-around trip.
And this morning, the 2nd annual All Points West Music Festival lineup was announced: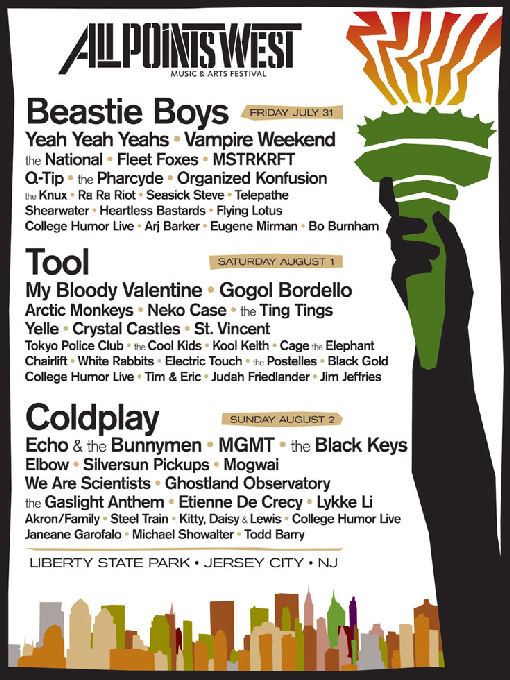 Alot of the same names are floating around from festival to festival but this being
in New York (sorry, Jersey City) and alot of the big names I have either never seen
live (Beastie Boys, My Bloody Valentine, Q-Tip, The Pharcyde (SWEET!) or have
but it's been years and years since I had the pleasure to see them do their thing in the
flesh (Elbow I'm looking at you) APW will be hard to pass up on.
Oh what to do … what to do …
TICKETS can be purchased HERE.
Bookmark This :
Comments